YEN Zero is a recently established network in the ADAS YEN Family, with the overarching aim of creating a net-zero community. It aims to bring key players from across the agricultural industry together to meet the industry's target of achieving net zero emissions by 2040.
YEN Zero will create a space where: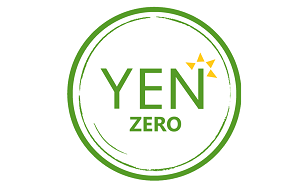 Knowledge can be shared around key net-zero topics 
Metrics for calculating cropping carbon footprints can be agreed upon to create consensus across the industry
Mitigation strategies can be communicated and tested on farm to find out 'what works'
YEN Zero will focus on the analysis and benchmarking of combinable crop carbon footprints on a per-field basis. In the near future, we aspire to grow this into carbon accounting on a whole farm scale. The benchmarking of crop greenhouse gas intensities will enable fair and easy comparison of emissions between farms, fields, and crops. From there, we will be able to see what mitigation strategies work best and explore these further to see if the benefits can be replicated for others.
Initially, we will launch YEN Zero as a pilot year in July 2021. 
Founding sponsors
We have gained support from several organisations across the agricultural industry who will act as YEN Zero founding Sponsors, contributing to the development of this new network and supporting grower entries.
During the pilot year, YEN Zero will host discussion workshops on key topics within the subject of net-zero. These discussion workshops will provide an open forum for YEN Zero members to gain and share knowledge regarding key net-zero issues. 
Within the pilot year, grower entries will be limited to those supported by YEN Zero Sponsors.
Pilot year activities
Activities undertaken within the network will include:
Analysis and benchmarking of cropping greenhouse gas emissions 

Presented as a total carbon footprint on a per hectare and per tonne of yield basis; and separated into emissions from different agronomic practices.

A Benchmark report, delivered to each grower entrant and their supporter. The report will present cropping carbon footprint data and compare grower results against others in the network. It will also include tailored proposals on suitable mitigation strategies. 
Creation of a valuable dataset to better understand the factors driving variation in greenhouse gas emissions.
End of year results meeting to discuss the main findings of the benchmark analysis and highlight successful practices in action.
Discussion workshops hosted throughout the year.
Production of a YEN Zero webpage and newsletters which will share the current net-zero activities, research, and related policy.
Get involved
If you are interested in becoming a YEN Zero founding Sponsor or joining the network as a grower, then please register your interest or contact Christina Baxter.