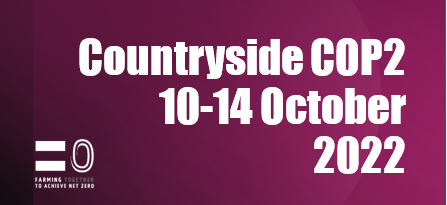 As part of CFE's Countryside COP 2022 week of events highlighting how the rural community can drive towards Net Zero, we are pleased to be hosting our first YEN Zero Workshop on Tuesday 11th October exploring how productivity can help create the opportunity to spare land for carbon and nature.
We will be joined by distinguished Professor of Conservation Science at Cambridge University, Andrew Balmford. Andrew has long advocated the need for agriculturalists and conservationists to collaborate to optimise benefits for nature. His work has shown that 'sparing' land by concentrating high yield production gives better outcomes for nature and climate than 'sharing' land through low input / low output agriculture.  His thinking led to the 'three compartment model' advocated in Henry Dimbleby's National Food Strategy and subsequently being developed as a Land Use Framework.
Join us to discuss productivity and land use as it relates to crops and GHG emissions with an introduction to YEN Zero.
What is the role of productivity in reaching net zero agriculture?
How do we balance meeting food demand while protecting our environment?
Should we be 'sparing' land for nature or 'sharing' our agricultural land with nature?
We will explore these questions and show how the YEN Zero network is supporting farmers in moving towards net zero in a discussion workshop running from 9-11 am on the 11th October. We will discuss ideas and solutions around how growers can be rewarded for achieving good crop productivity in a sustainable manner, with lower greenhouse gas emissions. It is open to everybody, from growers looking to adapt their production systems to reduce their carbon footprints, through to food and drinks manufacturers seeking to understand how they can reduce emissions throughout their supply chains. You do not need to be a member of the YEN Zero network to attend. 
Find out more on our FarmPEP page here