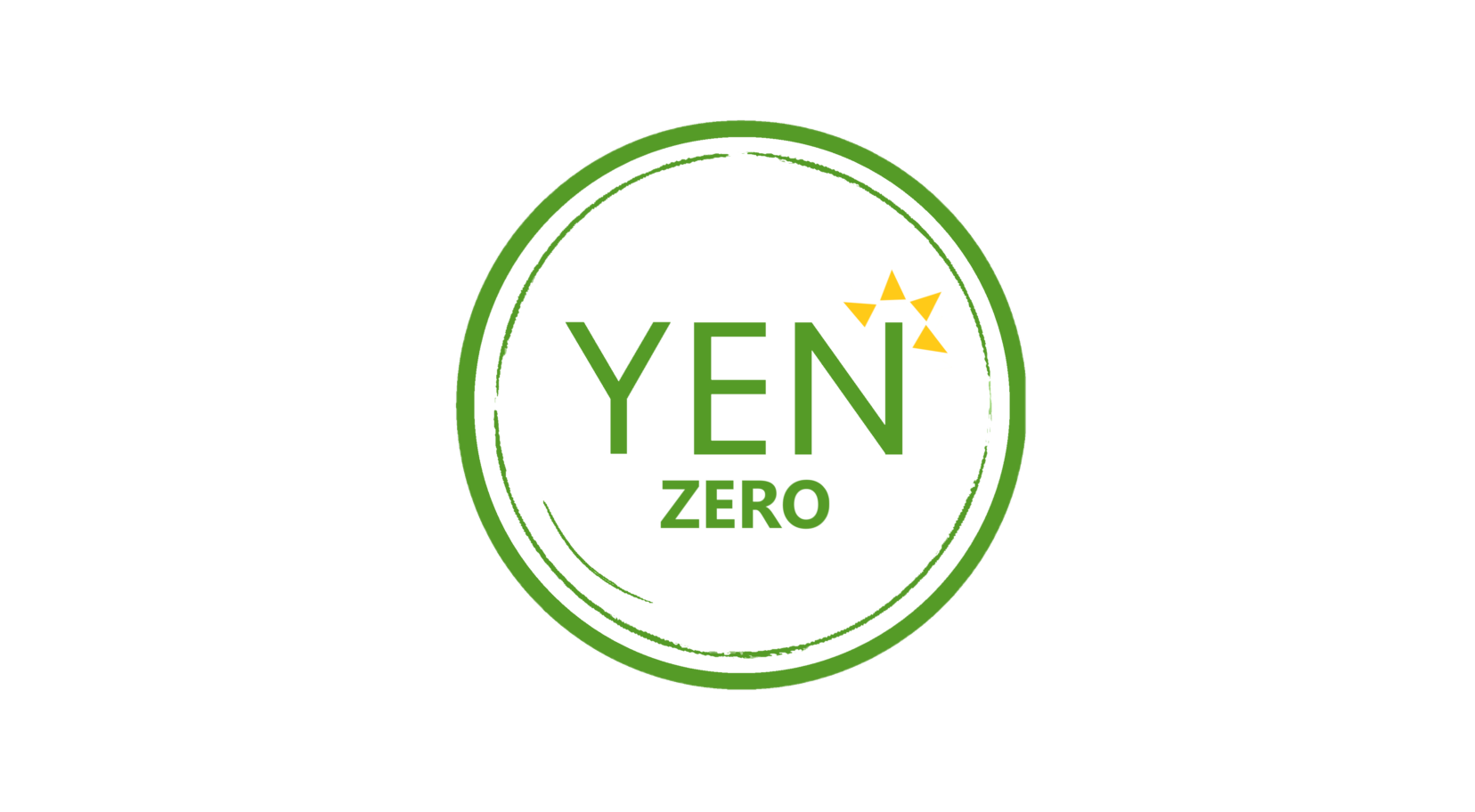 The newest member of the YEN family – YEN Zero – has successfully completed its pilot year. Initiated in July 2021, this network has been created by agricultural consultant ADAS and a collective of agricultural organisations to support agriculture's move towards net zero, through the calculation and benchmarking of growers' carbon footprints. To develop this network, the pilot year has been run on a partially closed basis, but going forwards, it will be opening fully for other growers, agronomists, and agricultural organisations to join.
A net zero community
The founding aims of YEN Zero was to create a net zero community for the agriculture industry to share their knowledge on net zero topics, agree key metrics for carbon accounting, develop ideas on how to reduce carbon footprints, and test these mitigation strategies on farm. The network has been supported by 17 organisations whose activities encompass most of the food production supply chain and therefore provide vital expertise about how the network should operate.
An essential element of the network has been the hosting of discussion workshops, which have focused on sharing knowledge, ideas, and solutions within fundamental net zero topics. This included: how to measure carbon footprints, soil carbon sequestration, and learning from growers who are introducing strategies on-farm to reduce the environmental impact of their farming systems.
Calculating crop carbon footprints
Through the collation of growers' agronomic management practices and yield data, YEN Zero calculated and benchmarked carbon footprints of combinable and forage crops from across the UK arable area. Altogether, 50 growers entered the network in its first year, submitting crops for up to six fields on their farms, giving a total of 274 crop carbon footprints. This analysis demonstrated where the emission hotspots lie, and the large variation in crop greenhouse gas (GHG) emissions across fields and farms resulting from differences in management and productivity. Wheat crop carbon footprints ranged from 5,658 to 625 kg CO2e/ha, which indicates the large scope to reduce current crop GHG emissions.   
The strongest associations with crop management practices and higher carbon footprints were nitrogen (N) use and more intensive operations such as cultivations and grain drying. This indicates that there is currently a significant need to explore how we can sustain and/or increase our current crop yields while reducing our reliance on synthetic fertilisers. In addition, reducing fuel use on-farm using minimum and no-till cultivation strategies and more timely harvesting where possible to reduce drying requirements, offers an opportunity to reduce carbon footprints.
Pie chart showing the crop management activities which contribute to the C footprint of a wheat crop. Data is sourced from the YEN Zero network (77 crops in total).
What is the potential to reduce crop carbon footprints?
There are a multitude of mitigation strategies that can be implemented to reduce crop carbon footprints. Using data from YEN Zero winter wheat feed crops, it was demonstrated that when these strategies are combined the total carbon footprint can be reduced by up to 41%. This can be achieved by combining a reduced cultivation strategy, a low grain drying requirement, reduced synthetic fertiliser input, and urease and nitrification inhibitors.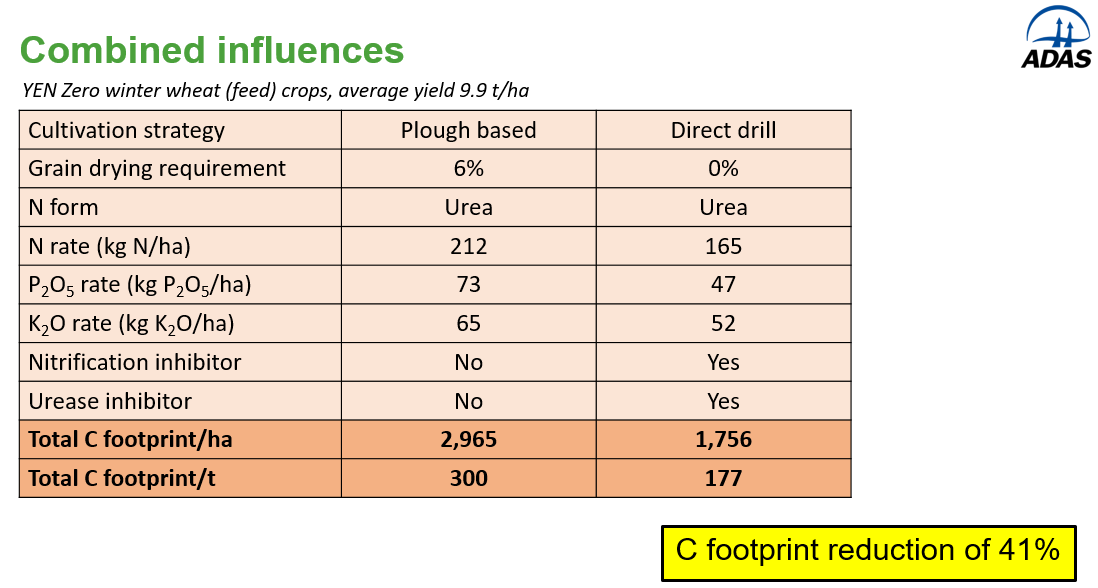 Comparison of a high and low carbon footprint crop management system for a winter wheat feed crop, using data from YEN Zero. The difference in the carbon footprint is 41%. NB nutrient inputs should not be reduced to below the level required to replace nutrient offtake or build P & K soil indices to the target level recommended for the crop rotation.
Using the average carbon footprint of winter wheat feed crops of 2,724 kg CO2e/ha, it was shown that moving from a plough-based to a direct drill cultivation system can reduce the carbon footprint by 9%. Additionally, moving from a requirement to reduce grain moisture content by 3% to harvesting grain with no requirement for drying can result in a carbon footprint reduction of 11%, indicating the significant impact drying can have on the crop carbon footprint. Average total N application rates for the growers in the highest third of GHG intensities were 212 kg N/ha compared to 165 kg N/ha on average for the bottom third, with no difference in average yield. When solely considering fertiliser manufacture emissions, this reduction in N fertiliser use can contribute to a 9% reduction in the total C footprint.
Comments from YEN Zero participants and sponsors
Lincolnshire grower Colin Chappell who took part in the YEN Zero pilot year said "Some of my purchasers are now starting to ask for my carbon footprint; having joined YEN Zero, I have a definite answer per tonne that I can pass back to them. More than that though, through debate around said figures where knowledge exchange is key, we can work on ways to reduce the figures even further."
Fellow participant, Suffolk grower Mark Harrington added "Taking part in YEN Zero enabled us to see not only where our carbon usage was high but also high carbon equals higher costs. If we are able to carry on recording inputs on the same fields throughout the whole rotation sequence over a number of years, then we will be able to benchmark each year against our own performance on the same soils etc as well as comparisons with other farms."
Mark Dewes from Agrii, one of the 17 organisations supporting the pilot year concluded "Accounting for the greenhouse gas emissions associated with our arable cropping has furthered our understanding of the pathway to reducing our impact on climate change in the essential work of producing food. Agrii will continue to be proud sponsors of this excellent initiative to help make farming more sustainable."
Ian Palmer, founder of InchDairnie Distillery, another YEN Zero Sponsor commented "It was noted in our carbon footprint report, published in December 2020, that growing and malting our barley was the largest contribution to our carbon footprint impact. Sponsoring the YEN zero program has enabled us to develop an understanding of how we can reduce our impact in this area and provide key support to those at the start of our whisky's field to cask journey."
Commenting on the report's initial findings, Syngenta Sustainable Farming Manager, Belinda Bailey enthused: "The immense scale of the YEN Zero initiative provides an incredibly valuable insight into carbon footprinting across the whole farm rotation, and the implication of crop yield in minimising farming's impact per tonne of production."
"YEN Zero results will help to focus our future research and developments in measures that will reduce carbon emissions at all stages of the crop production cycle, as well as the data and science to build the positive gains that agriculture can deliver for carbon sequestration into the calculations."
Additionally, Mandy McAulay Origin Fertilisers stated "Farmers involved with YEN Zero through our sponsorship found it very informative and useful to start the process of benchmarking their GHG emissions. It provided them with a starting measure and gave them useful suggestions on how they can mitigate GHG emissions, underpinned by good robust methodology."
"As a fertiliser business, we are engaged in developing products and services to help farmers to reduce their GHG cropping intensity and we welcome being part of the collaborative group of sponsors working with ADAS as part of YEN Zero."
YEN Zero next steps
After a successful pilot year for YEN Zero, thanks to a collaborative endeavour across the whole supply chain, we are now looking to develop the network further by opening it up fully for anyone to take part, either as a sponsor or an entrant. Continuing with crop carbon footprint analysis and benchmarking, the network plans to help growers better understand the capacity to increase soil carbon stores on farm, provide support in deciding which mitigation strategies have the most potential in specific farming systems to reduce crop carbon footprints, and create a space where growers can learn from each other's experiences of introducing strategies on farm to reduce the environmental impact of crop management.
For more information about YEN Zero and details on how to get in touch, visit our webpage here.
ADAS would like to acknowledge the great support the YEN Zero sponsors have provided and who have made the initiation of this network possible.