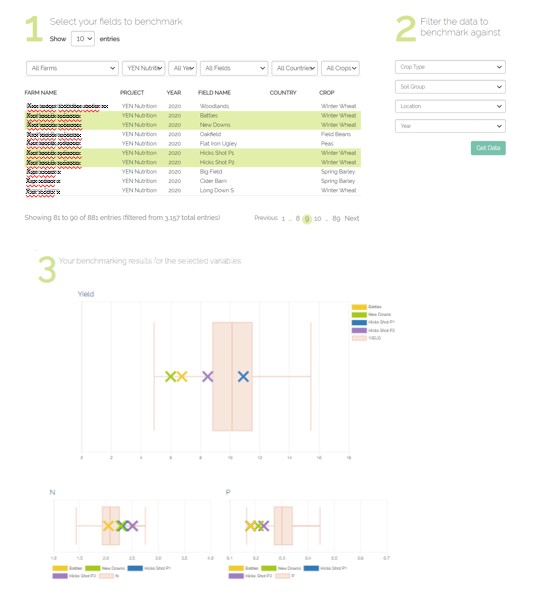 We've now come to the end of our six month Innovate UK project to develop better data exchange and 'Dynamic Benchmarking' for the YEN family.
We've achieved a lot:
We've added user login to the YEN website, with users able to join and access gated content from the YENs
We've put together all the YEN datasets across all networks, giving >2,800 yields with a total of >600,000 datapoints
We've linked the database to the YEN website via APIs, so that future data entry for the YENs can be through the website
We've created 'Dynamic Benchmarking' which is now accessible for anyone who has entered the YENs before
We've created a registration & data entry process for YEN Nutrition linked to your farm and your fields
The prototype Dynamic Benchmarking tool allows you to select up to six of your fields and view your grain yield, grain N%, grain P%, grain Mg% and grain Mn (ppm) concentrations, against the wider YEN dataset through the familiar YEN box and whisker benchmarking diagrams. What you can now do is select what data you compare yourself against, by filtering by crop type, soil type, region and year.
We are really excited by this new functionality. We hope to improve it over time and enable you to view a wider range of metrics and to filter by a wider range of characteristics. 
To access Dynamic Benchmarking first of all register and login to the website with the email address you've used with YEN before. You should then be able to access Dynamic Benchmarking via the dashboard.
We'd really appreciate your feedback to help us improve this feature - let us know how you get on by emailing yen@adas.co.uk.