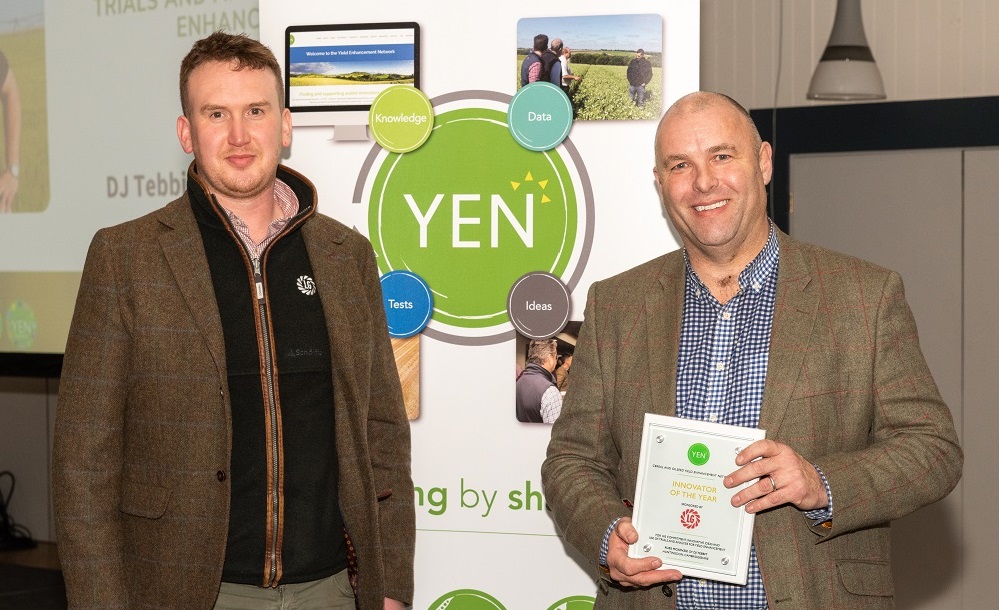 At the 2022 YEN Conference, YEN sponsors reaffirmed that "YEN exists to identify farming innovators and support them in their innovating". At the awards event, we were delighted to award 'Innovator of the Year' to Russ McKenzie of DJ Tebbit, Old Weston, near Huntingdon in Cambridgeshire for his commitment to YEN throughout all of its 10 years, his innovative ideas, questioning, and use of trials for yield enhancement. The award was sponsored this year by plant breeders Limagrain who have been active supporters of YEN since its inception.
Will Charlton of Limagrain said
"we invest a considerable amount of time and money in examining how our varieties perform in different farming systems. Over the years YEN has been invaluable in helping us facilitate this work by providing a structure and detailed analysis to aid Limagrain's collaborations with innovative farmers across the country."
Fittingly, the YEN's new Innovator of the Year has been particularly interested in 'how varieties perform in different farming systems'. 
Russ joined YEN right at the beginning in 2012, and became an AHDB Monitor Farmer from 2014 to 2017. In recent years, alongside his YEN entries, he established a 3-way partnership with Bayer (for crop protection expertise) and Agrii (for variety expertise) to set up both small plot and large-scale cultivation and variety trials to investigate how more no-till drilling of cereals might reduce diesel costs and promote biodiversity.
In particular, Russ was looking for better information on variety performance under no-till regimes. It's not easy comparing contrasting cultivation systems, so together, the group set up small plot trials and larger tramline plots running across the two cultivation systems.  This allowed multiple varieties to be tested with different levels of fungicide and foliar nutrition. This work was repeated over three seasons, including qPCR and canopy reflectance measurements. The trials have produced a wealth of data on how to tailor fungicide and nutritional inputs according to crop conditions, including the effects of cultivating, or not.  
We are delighted that Russ could receive his award in person on the 24th January 2023. It was presented by Liam Wilkinson, Arable Technical Specialist for Limagrain UK.