Date
Thu, Feb 25 2021, 1 - 2pm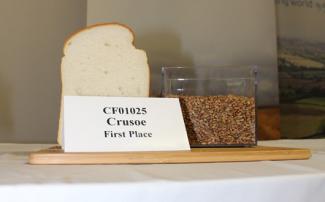 The AHDB Milling Wheat Conference recognises innovation and excellence in milling wheat production and brings together the supply chain to ensure quality throughout production, from seed to loaf.
Join us at the end of AHDB Milling Week for the annual Wheat Quality Award presentation and discussion sponsored by UK Flour Millers.
The Yield Enhancement Network is not all about the best yield. Each year, we look at the quality of wheat submissions based on protein quality and weight. The entries are milled by UK Flour Miller partners and after baking, assessed on their size and loaf quality. 
Agenda
Timings

Topic

 Speaker

13:00

Introduction

Prof. Roger Sylvester-Bradley (chair)

Head of Crop Performance, ADAS

13:10

What makes a winner? - A look at YEN quality testing

Mark Charlton

Head of Cereals, Milling & Baking Science - Allied Technical Centre &  Chairman of UK Flour Millers Varieties Working Group

13:20

Yen Wheat Quality Competition 2020 Award Presentation

 

 

13:30

Panel discussion with the three winners

 

 

14:00

Webinar ends