Date
Thu, Feb 27 2020, 10am - 3:30pm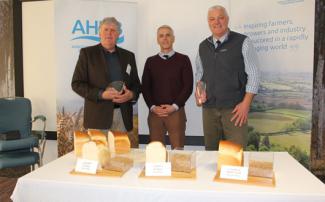 The AHDB Milling Wheat Conference recognises innovation and excellence in milling wheat production and brings together the supply chain to ensure quality throughout production, from variety to loaf.
Presentations from across the milling industry cover the technical aspects of growing quality wheat, including the latest market information, managing N use with changing policy, best practice in growing and thoughts from the haulier, miller and bakers across the supply chain. 
The Conference also included the presentation of the YEN Wheat Quality Award, sponsored by nabim and a panel discussion with the winning growers. 
Farmers, breeders, agronomists, millers and merchants have the opportunity to come together at the Conference to hear industry experts deliver a packed and informative programme, to exchange knowledge and to share best practice.
YEN Wheat Quality Awards 2020
View the slides and presentations
First Place: James Perry, Aldburys Farm Contracting, Essex.  Sponsor: AHDB
Second Place: Ian Rudge, Bedfordia Farms, Bedfordshire.  Sponsor: Hutchinsons
Third Place: Trevor Pierce, R Sternberg Farms, Kent.  Sponsor: Bayer
Hear from the 2020 winners about their entry here:
YEN Wheat Quality Awards 2019
Download the 2019 presentations
First Place: Alex Wilcox, A&J Wilcox, King's Lynn, Norfolk. Sponsor - Hutchinsons
Second Place: Sam Markillie, Arthur Markillie Ltd, Wisbech, Cambridgeshire. Sponsor - Hutchinsons
Third Place: Richard Carr, LE Carr & Sons, Maldon, Essex.  Sponsor - Hutchinsons
Hear from the 2019 winners about their entry here:
---
Useful Links
Marriott Hotel, Kingfisher Way, Huntingdon, Cambridgeshire