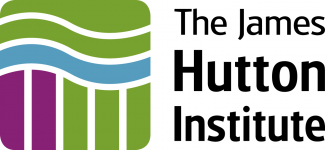 The James Hutton Institute is a world leading and internationally networked research organisation operating across multiple sites in Scotland. The Institute combines strengths in crops, soils, land use, social and environmental research to realise effective technological and management solutions to overcome global challenges including climate change, plus food-, energy- and environmental-insecurity. It employs more than 500 scientists and support staff plus 120 PhD students, and with associated bodies and spin-out companies there are over 750 people working on Hutton campuses - making it one of the biggest research centres in the UK and the first of its type in Europe.
The Institute takes its name from the 18th century Scottish Enlightenment scientist, James Hutton, who changed the way we think about our world with deep insights into land, soils, crops and the climate and he is widely regarded as the founder of modern geology. He was also an experimental farmer and agronomist.
More information at www.hutton.ac.uk.
WHY WE SPONSOR YEN
The James Hutton Institute recognises that UK-grown legume crops should be key components of diverse, sustainable, and resilient food systems. Towards that goal, optimising legume-crop performance demands greater understanding of the many factors which underpin plant fitness, yield, and yield qualities. Such insight will enable more effective solutions, tailored to satisfy the broad range of conditions faced by growers. The Institute also recognises that success in this regard demands cooperation across disciplines, and innovation across the industrial and academic stakeholders, and this is offered by the YEN partnership.